IV.I.4 Differential input demand systems
The producer's objective is to minimize input expenditure for any given output volume z and input prices. Denote expenditures by p'q for n input products and denote z = g(q) a three times differentiable production function.
On constructing a Lagrangian function and optimizing yields

(IV.I.4-1)
On differentiating the equations from (IV.I.4-1), and the production function with respect to z and pí we obtain (in partitioned matrix form)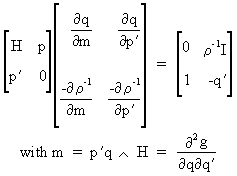 (IV.I.4-2)
If the Hessian matrix H would be non singular, then we could derive the input demand systems analogous to the derivation under section IV.I.1. This assumption implies however that the firm would not operate under constant returns to scale.
In order to bypass this difficulty, it is sometimes suggested to (re)express the production function in logarithms

(IV.I.4-3)
If C(z, p) is the minimum cost needed to produce an output of z with given prices p then we can define

(IV.I.4-4)

Define the factor share of input i in total cost and the marginal share of input i respectively as

(IV.I.4-5)
(compare with (IV.I.3-2)).


(IV.I.4-6)
Note that Q satisfies (IV.I.3-13).

An expression analogous to (IV.I.3-7) can be found for differential input demand systems

(IV.I.4-7)
If the firm operates under input dependence and if C = p'q then eq. (IV.I.3-1) can be proved to be

(IV.I.4-8)
which is the differential input demand equation.
Under the condition of input independence this can be shown to be

(IV.I.4-9)
It is remarked in literature that (IV.I.3-10) and (IV.I.3-14) are in fact allocation systems since they describe the apportionment of the change in total expenditure on each of the n different goods. Eq. (IV.I.4-8) and (IV.I.4-9) however, are not allocation systems because they are not a function of total input expenditure (which is considered to be given in (IV.I.3-10) and (IV.I.3-14)). In stead they are minimizing expenditures for given z and p.
Therefore by substituting

(IV.I.4-10)
into (IV.I.4-8) we obtain

(IV.I.4-11)
which is now converted to an allocation system.
Both allocation systems of (IV.I.3-10) and (IV.I.4-11) can be written in matrix form

(IV.I.4-12)
where

(IV.I.4-13)

It can be shown that it is possible to delete one arbitrary equation from an allocation system. Intuitively, this can be motivated by the fact that the deleted equation can always be obtained by adding all other equations. Hence an allocation system of n equations can be estimated in practice by only using n-1 equations.