The aim of this section is to give a brief overview of the most important probability distribution functions available to the econometrician.
The binomial and the univariate normal distribution have already been discussed earlier, therefore we only concentrate on other (less frequently used), and multivariate distributions.
The Poisson density is defined as

(I.V-1)
where lambda is positive and

(I.V-2)
This density is an approximation of the binomial pdf (eq. (I.III-28), and (I.III-29)) for which p is small and n is large. This means that if lambda is np (by definition), lambda and i are constant, and n tends to infinity

(I.V-3)
A variable is said to be uniformly distributed if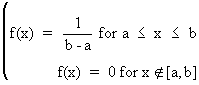 (I.V-4)
with the following mean and variance

(I.V-5)
The Standardized Cauchy probability density function can be written as

(I.V-6)
which has no mean since

(I.V-7)
and this cannot be computed when the upper bound converges to infinity and the lower bound to minus infinity. The mean in the limit would however not be practical since it doesn't follow the expectation rules discussed in section I.III.
The multinomial pdf is defined by

(I.V-8)
with

(I.V-9)
where the covariance matrix can be written as

(I.V-10)
with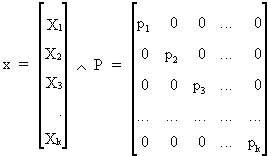 (I.V-11)
The multivariate normal pdf can be written as

(I.V-12)
where

(I.V-13)
From (I.V-12) the Chi-square pdf can be derived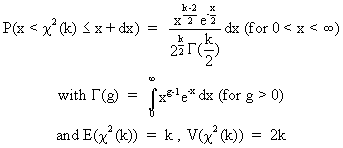 (I.V-14)
which is the distribution of a sum of squared independent standardized normal variables; the F-density as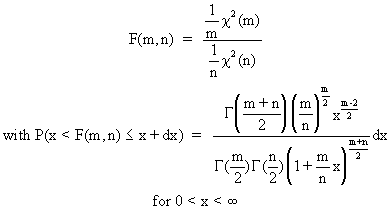 (I.V-15)
which is the distribution of the ratio of two independent variables with Chi-square distribution; and the t-distribution as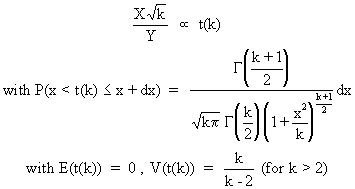 (I.V-16)
which is the distribution of a standard normal variable times the square root of k, divided by a positive square root of a Chi-square distributed variable (X and Y are independent from each other).